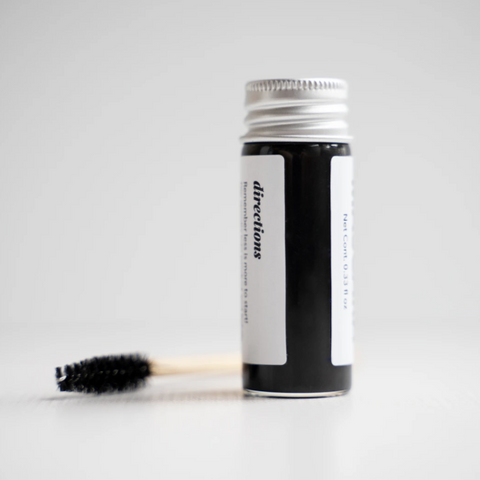 850033594003
Plastic Free Black Mascara
Vegan liquid Mascara formula comes in a zero waste glass vial perfectly sized to fit a mascara wand. Reuse your own wand after a deep cleaning or use the bamboo wand provided.
While many mascara manufactures include a plastic reducer to remove the excess mascara, we skip it to make this product truly plastic free. Simply lightly drag your wand against the edge of the vial to remove excess and then apply!
Unlike synthetic mascaras, this product takes a second to dry and should be allowed to set to avoid smudging. Re-apply as desired, curl, and fall in love with your gorgeous lashes! To rinse off your wand, simply run it under hot water until it runs clear and allow to dry. This mascara is vegan, and is entirely plant based.

Ingredients: Water, Stearic Acid, Caranuba Wax, Vegetable Glycerin, Gum Arabic, Polysorbate 80, Cetearyl Alcohol, Xantham Gum, Iron Oxide, Benzylalcohol-DHA
---