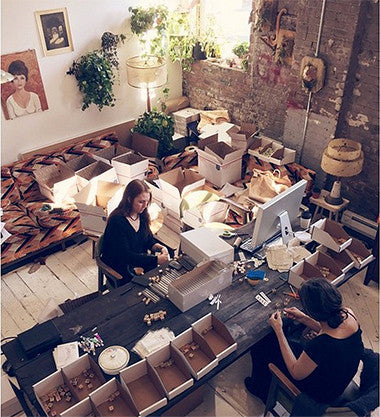 About Us
Lovewild Design makes handcrafted, sustainable gifts from our family and women-run studio in New York. Our signature paper products are embedded with seeds that grow when planted.
Just like those tiny seedlings, Lovewild has grown as we grow. We started with our own wedding invitations, expanded to home and bath goods, and added pregnancy-specific goods when our family grew by a little one.
Our days in the studio are spent crafting handmade lovelies like kitchen towels, screen printed bags, temporary tattoos and tea gift sets. We then stock our goods in shops and boutiques across the U.S. Our plantable stationery is letterpress printed by us in Woodstock, NY. 
Meet Sierra
I'm inspired by the environment to use renewable resources and to keep things local whenever possible. A serial entrepreneur since I was 5, I grew up in the East Village where I often worked outside my parents' store. Instead of going to the playground, I would hunker down and try my hand at various businesses—shoe shining, selling vintage jewelry, running an organic milkshake stand—to make a few bucks.

Several years later I began working with non-profits around the world. Seeing how much we waste, and how much we have worth saving, lead me to base everything we do in sustainability. Lovewild serves as a creative outlet and a platform through which we can support local vendors, low-impact materials and wind-powered manufacturing.