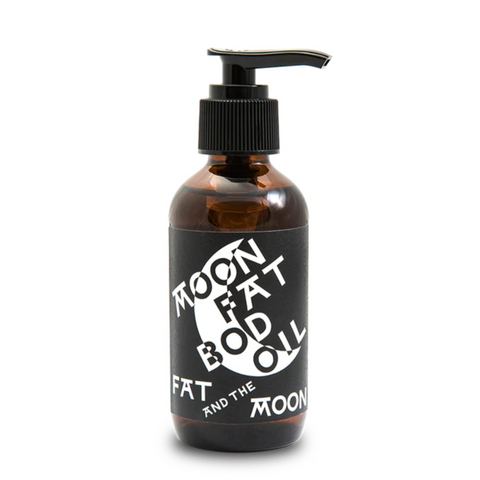 MFBDO1
Moon Fat Bod Oil
DESCRIPTION
Apricot Kernel Oil contains Vit E and vitamin B-17, which protects while it nourishes and softens. Jojoba Oil delivers the moisture-holding properties necessary to the desert climate it thrives in, without clogging pores. Rosehip Seed oil keeps the skin full and supple.

PLANT PROFILES
The easy to absorb and highly emollient oils of Apricot Kernel, Jojoba and Rosehip promote skin integrity and provide the best conduit for the warm, grassy uplifting scent of Clary Sage.

DETAILS
Skin nourishing Moon Fat Bod Oil employs the grassy muskiness of Clary Sage essential oil. Clary Sage opens us up to a new way of seeing. There is a way to see things differently in the moonlight, to get in touch with parts of ourselves that may be softer, more ancient, and more intuitive.
SPECS:
4 fl oz
SHELF LIFE:
Lasts 6 months. Store in a cool and dry place. Our products are organic and freshly made-to-order skin food. We do not use toxins that make things last forever.
RITUAL
For best results, apply a couple of squirts of oil after bathing, while your skin is still damp. This allows the oil to trap in the moisture that keeps your skin hydrated. For massage, apply liberally and think sweet thoughts.
---