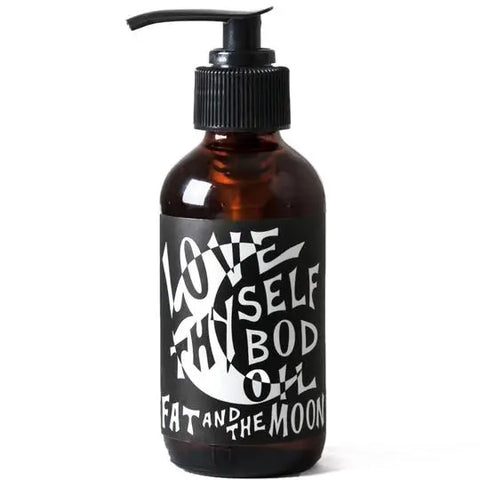 857993006522
Love Thyself Bod Oil
The skin is the boss of fat and the moon. We are always trying to make her healthy and happy since she is working her butt off protecting all of us. The skin is the barrier between us and the world. The skin holds us together and lets us feel. The magic thing about skin is what she lets in. The skin is permeable and porous. Being a barrier is only one dimension to the skin--the skin moves, in and out. The skin exhales sweat and toxins from the bod and inhales moisture, oxygen, and nutrients.
For best results, apply a couple squirts of oil after bathing while your skin is still damp. This allows the oil to trap in the moisture that keeps your skin hydrated. For massage, apply liberally and think sweet thoughts.
Ingredients: Apricot Kernel Oil, Jojoba Oil, Rosehip seed Oil, Essential oil of Vetiver, Essential oil of Clove Bud. 

Made in United States of America
---