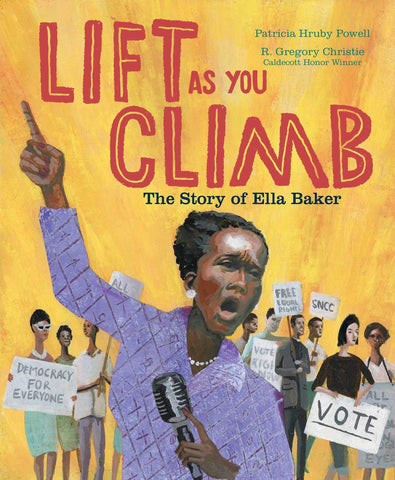 9781534406230
Lift As You Climb
Learn about the civil rights activist Ella Baker in this inspiring picture book from Sibert Honor winner Patricia Hruby Powell and Caldecott Honor winner R. Gregory Christie.
"What do you hope to accomplish?" asked Ella Baker's granddaddy when she was still a child.Her mother provided the answer: "Lift as you climb."
Long before the civil rights movement of the 1950s and 60s, Ella Baker worked to lift others up by fighting racial injustice and empowering poor African Americans to stand up for their rights. Her dedication and grassroots work in many communities made her a valuable ally for leaders like Dr. Martin Luther King Jr., and she has been ranked as one of the most influential women in the civil rights movement. In the 1960s she worked to register voters and organize sit-ins, and she became a teacher and mentor to many young activists.
Caldecott Honor winner R. Gregory Christie's powerful pictures pair with Patricia Hruby Powell's poignant words to paint a vivid portrait of the fight for the freedom of the human spirit.
---