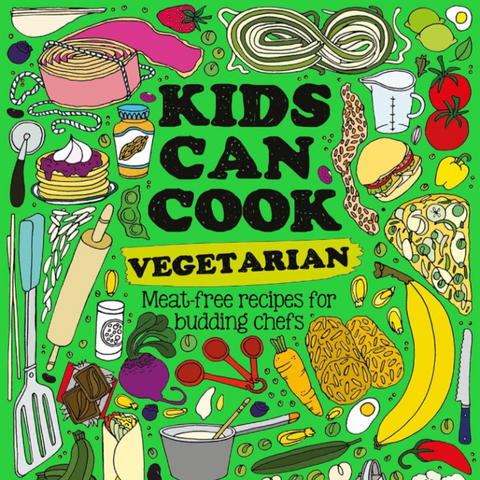 9781787081192
Kids Can Cook Vegetarian
Kids Can Cook Vegetarian is a beautifully illustrated cookbook for budding chefs, containing more than 30 vegetarian recipes.
Packed with recipes for fresh, tasty vegetarian dishes, the third title in the Kids Can series is an exciting way to introduce hungry young chefs to the endless possibilities of cooking with vegetables. Whether you follow a vegetarian diet already, want to reduce the amount of meat you're eating, or simply have an appetite for all things veggie, this book offers a whole host of ideas for mealtimes, snacks and treats.
From ruby-red peppers to vibrant-green peas and purple-sprouting broccoli, you'll learn how to prepare, cook and serve a rainbow of vegetables of all shapes and sizes, turning them into delicious dishes for every season, such as burgers, salads, frittatas, stir fries, soups and pies. There are also recipes for muffins, cakes and desserts, using both fruit and vegetables to create tempting treats. 
A basic techniques section explains how to prepare ingredients, use equipment and know when your culinary creation has been cooked to perfection. Every recipe uses readily available ingredients and the simple, step-by-step instructions are illustrated with colorful drawings, showing each stage of the process. Throughout the book, you'll find handy tips for storing your dishes, recipe variations to try, and clever kitchen hacks to improve and enhance your skills.
Recipes include pizza, bean burgers, chili, tomato soup, frittata, potato rosti, vegetable crisps, spinach lasagne, kebabs, falafels and pancakes.

---