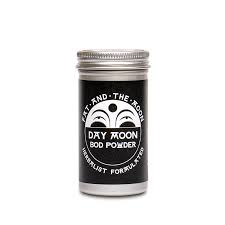 mnbd
Day Moon Bod Powder
Want to reduce the friction in your life? Sometimes staying cool and collected means you need to be dry and dusted. Don't let chafe trouble that saunter! A little Bod Powder in all the right places keeps the skin moving smoothly with a silky feel.
Bod Powder absorbs sweat and makes the environment inhospitable to those little microbe friends who make us stinky, while imparting the skin with the light, plant-based scents of grassy clary sage and bright notes of grapefruit.

Buh bye one-use. Sup, refill.

Our new shakers are built to be used over and over again! Easy to open, refill, and clean. Our paper shakers can only be used one time, without the potential for refills, which creates waste and adds to our overall carbon footprint. Alongside our aluminum shakers, we offer 2 fl oz and 4 fl oz refill packages which are home compostable and much lighter weight.

Made in United States of America
---