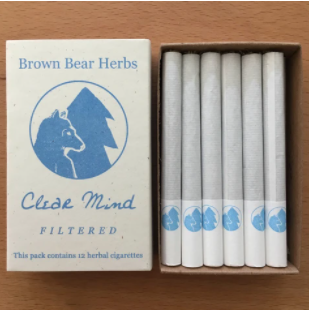 XDTCFYVGBHK
Clear Mind Herbal Smokes
This is our lightest blend. It has a hint of mint that is felt more than tasted. This blend is cooling and calming to the emotions. The herbs in this blend have historically been used to still the mind.
Take a moment for yourself before you meditate, begin a project, when you're getting ready to brainstorm, or when you're just feeling the vibe on nature excursion.
More information:
Organic Ingredients: gotu kola, spearmint, linden, and mullein.
**This product contains no tobacco, no nicotine, no thc, nor any cbd. 
10 per pack. Now available with a filter! The filter is high flow and made from cellulose (wood fiber). The papers are a mix of flax and h#3p fibers (that's right, I can't say that word on the site). Stuffed with love in Portland, OR.
---