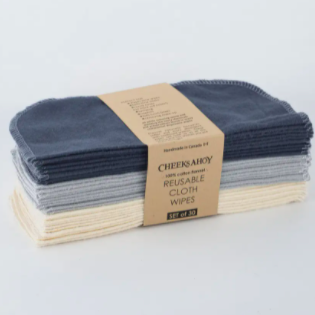 GUHIBJ
Cloth Wipes 30-pack
Get ready for so many more one-wipe diaper changes! Cloth wipes clean so much more efficiently, you'll be impressed.
These wipes can be used as baby wipes at the changing table or in the diaper bag. Simply wet with water or use Cheeky Bits cloth wipe solution cubes to moisten.
These wipes are also perfect for:
-napkins, kids lunch boxes
All while reducing waste and avoiding nasty chemicals and preservatives found in many commercial disposable wipes. Aaaand...if they get left in a p
ocket and thrown in the wash, they will just get clean: no more picking tiny pieces of shredded paper off of everything in the dryer!
Made from one layer of 100% cotton flannel, the size is 8"x8". Wipes are not pre-washed, so expect some shrinkage. 
Fabric content: 100% cotton.
Care instruction: Machine wash.
---