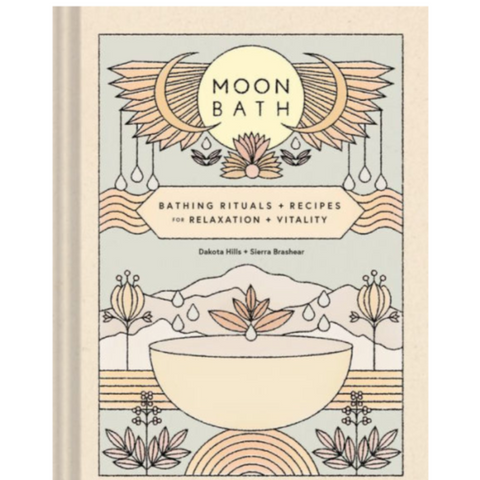 9781452184777
Moon Bath: Bathing Rituals and Recipes for Relaxation and Vitality
Moon Bath is a luxurious guide that invites readers to immerse themselves in the healing powers of nature.

This transformative book features 16 bath and shower rituals aligned with the lunar cycles and the natural rhythms of the cosmos. 

Organized by moon cycle—New Moon, Waxing Moon, Full Moon, and Waning Moon—each ritual includes a bath recipe featuring healing natural ingredients.

• Includes affirmations and meditations
• Journaling prompts promote reflection and self-discovery.
• Filled with lush, nature-inspired photography

Brimming with Ayurvedic wisdom and plant-based medicine, Moon Bath is a lovely companion for modern mystics, wellness enthusiasts, and anyone who wants to wash away the stresses of daily life. 

Bath recipes include ginger and baking soda for detoxification, cacao and rose to cultivate love, eucalyptus and bentonite clay to release negativity, and chamomile and lavender to connect to deep wisdom.

• This beautiful guide to bathing rituals and bath recipes makes it easy to incorporate calming and enriching self-care practices into everyday life.
• Presented in an enchanting package, making it a great gift
• Perfect for women who love self-care, meditation, yoga, crystals, and those interested in Ayurveda
• Add it to the shelf with books like Crystal Muse: Everyday Rituals to Tune In to the Real You by Heather Askinosie and Timmi Jandro; The Spirit Almanac: A Modern Guide to Ancient Self-Care by Emma Loewe and Lindsay Kellner; and Lunar Abundance: Cultivating Joy, Peace, and Purpose Using the Phases of the Moon by Ezzie Spencer.

---