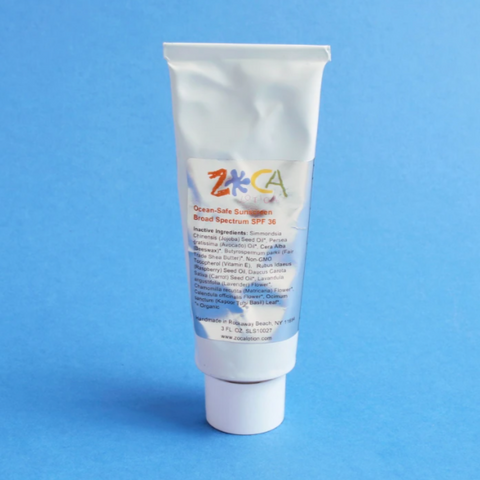 P0232S
Reef-Safe Sunscreen Broad Spectrum SPF 36
This sunscreen can be rubbed into skin easily. Our base ingredients soothe and nourish while Non-Nano Zinc Oxide safely blocks harmful UVA and UVB rays. This lotion has a mild natural scent of chamomile, calendula, and lavender.
Active Ingredient: Non-Nanoparticle, Uncoated Zinc Oxide 22.5%.
Base Ingredients: Jojoba Seed Oil*, Avocado Oil*, Beeswax*, Shea Butter**, Vitamin E Oil***,   Raspberry Seed Oil, Carrot Seed Oil*, Lavender Flower*, Chamomile Flower*, Calendula Flower*,  Kapoor Tulsi Basil Leaf*.
*Organic, **Fair Trade Organic, ***Non-GMO
Cruelty Free. 2.5 fl oz
5% of all sunscreen sales are donated to Mission Blue.
Handmade by Zoca Lotion in Brooklyn, NY.
---