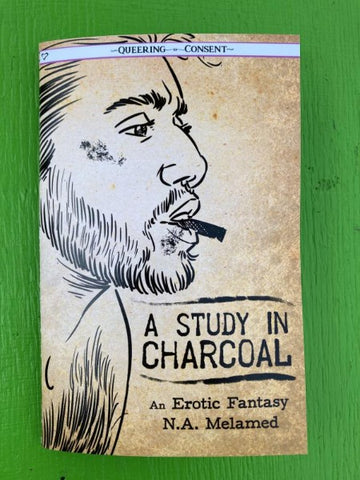 9781648411427
Study in Charcoal: An Erotic Fantasy
The art of being vulnerable is a damn sexy one. 
Alex Mazor is a transmasculine horror artist struggling to make a living in Toronto. When he invites one of his patrons home to model for his next project, His motives aren't purely artistic. But Matt Connors, local fantasy geek and perpetual DM-without-a-party, is an unlikely model. They talk and flirt as Matt poses, and eventually the artist begins to enter the picture. A study in vulnerability, the characters slowly remove their hangups, inhibitions, and clothing so that they can truly see and experience each other. Contains gorgeous drawings by the author, depicting the actions and the art of the story. 
A steamy and kind m/m erotic story, part of Microcosm's Queering Consent series.
---